Olga Deussova has been appointed General Manager of DSIA in Russia in January 2018, with the mission to ensure its development and management. She joined the DSIA team in Moscow in March 2017 as Business Development Manager
DSIA consolidates its presence in Russia
She is now assuming the management of the Moscow team of DSIA and directs this entity whose growth potential is up to the Russian market of information systems for the Supply Chain.
SaaS Logistar ™ solutions from DSIA
have been deployed in Russia since 2012 thanks to a local team providing users with 24/7 business support. This service offer is currently generating a lot of interest among Russian logistics players, as the need for reliability, innovation and support for projects is being felt in Supply Chains with modern standards, made even more complex by certain national parameters, such as the size of the country, the climate, the labor market or the difficulty of transport.
Graduate of the University of Minsk, Olga Deussova began her career with Belarusian companies in Customer relationship management and then as International Development Manager. Her Russian-French bilingualism and her attraction to the IT solutions business led her to join Cegid Russia in 2012 until becoming Head of its Representative office in Russia.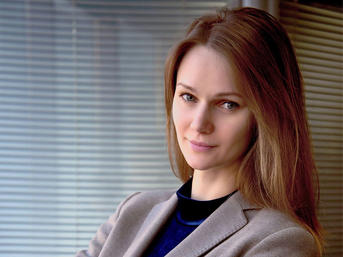 The Logistar software suite covers all the activities of the Supply Chain