DSIA is evolving its modular AB Value ™ - Supply Chain Analytics suite for logistics performance management, by creating the AB Value™ Time Tracking" web application dedicated to monitoring operators' time from a tablet.
About the App
DSIA's experience feedback from more than 200 sites in 23 countries has highlighted the complexity of traditional procedures for monitoring operator time by activity, which are often cumbersome and sometimes imprecise. Based on this observation, DSIA has developed a support tool for team leaders to
digitize timesheets.
The target being mainly the team leader, it was important that this application be mobile and be able to follow him/her in the field as close as possible to his/her activity.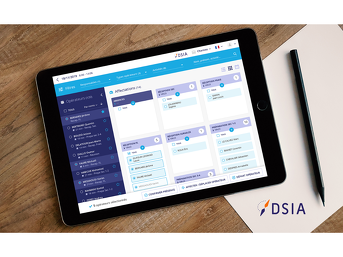 Innovative Web application, that offers a simple, intuitive and friendly user environment.
It enables to :
assign operators to different tasks, as they come and in real time,
benefit from an on-going view of the activities in progress,
transmit time data automatically into AB Value™ - Supply Chain Analytics
« While the acquisition of operator time by activity is considered essential for companies to monitor their performance, it is still too often manual and tedious for team leaders. With the new "Time Tracking" feature of AB Value ™ - Supply Chain Analytics, DSIA provides field managers with the possibility of digitizing this acquisition in real time. Equipped with tablets, team leaders just must report changes in employee activities over time. Its use on tablet and its intuitive ergonomics make this work almost nil in the daily life of the manager and with an increased quality of information » - explains Olivier BERNARD, Business Director France at DSIA.
The new Web AB Value™ - Time Tracking app from DSIA  completes the existing AB Value™- Supply Chain Analytics  modular suite and is today available in 3 languages : French, English and German. 
About DSIA : DSIA has developed a range of innovative logistics solutions allowing its customers to optimize their supply chains taking into account their specific products. Present in 23 countries and with an experienced team, DSIA has gradually specialized in customizable and modular software suites. Initially designed for the sector of highly constrained products, our logistics solutions in SaaS (Software as a Service) mode make it possible to immediately optimize all logistics flows, without requiring heavy investments.